It's no secret I have a dash of Irish in me, even have the red hair and freckles to prove it, so my shop contains a variety of Irish, Shamrock, even Celtic themed glow in the dark jewelry, including Glow Lockets ™ and Shamrock Glow Lanterns.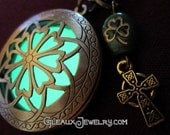 This Celtic cross charm and green and gold shamrock bead charm is so cute. I use these in my Irish Rosary Bracelets and they've always been a favorite. So I decided to add a single antique gold, double sided cross and glass shamrock bead charm to this lovely antiqued brass chain with the lovely Hour of Twilight Original Glow Locket ™.
Lucky Shamrock Four 4 Leaf Clover Saint Patrick's Day Glow Locket ™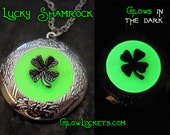 According to wiki, "The four-leaf clover is an uncommon variation of the common, three-leaved clover. According to tradition, such leaves bring good luck to their finders, especially if found accidentally. According to legend, each leaf represents something: the first is for faith, the second is for hope, the third is for love, and the fourth is for luck."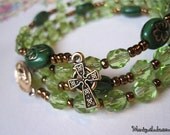 Beautiful gold embossed shamrock beads were used along with luminous lighter green faceted glass beads, and dark gold accent beads. I used a dark gold celtic cross pendant on one end and a golden miraculous medal on the other.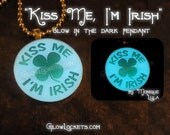 One of the most popular phrases ever associated with Saint Patrick's Day, "Kiss Me I'm Irish" glowie.
Glow in the dark lantern with Shamrock!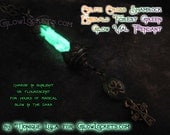 All my jewelry is handmade with lots of love and care, if you are looking for something custom send me a message!
Happy Saint Patrick's Day and thanks for looking at my glow in the dark jewelry!